The past year has practically ensured that a website is a necessity for any business, even for manufacturing companies, as the vast majority of business interactions and sales have shifted to online.
In an increasingly digitally connected world, where more potential customers are looking online to do research and make purchase decisions, a manufacturer's website needs to stand out from the competition, engage with website visitors and generate high-quality leads.
One central tenet of a successful website is user experience and every element and style on your website needs to address this. That is why most of the website trends for 2021 address greater user experience.
Here are seven must-have's manufacturer's will want to include on their website this year.
1. Product Organization
The most highly visited pages on manufacturing websites are the product pages. Most visitors who come to your product pages already know what you are manufacturing and are looking for more information about your products.
Make it easy for potential customers to find your product pages. Establish a strong linking structure so users can navigate to these pages from multiple access points on your website, or create prominent, eye-catching CTA's (call to action) to get users to click through, and place them strategically in your main navigation.
Here's an example of well-organized products in a clear navigation:

It is vital to provide powerful product filtering and search capabilities that enable buyers to find products based on their requirements.
Online catalogs become more robust in the new year. With the right product management platforms on your website, products are organized based on how sourcing professionals, engineers, and your buyer personas search online.
2. Product Information
Providing all the information about your product is vital to enable effective sales. Buyers who visit your site need answers to their questions about your products quickly and easily. They also expect product information to be delivered in various formats such as 3D CAD drawings for engineers and downloadable technical spec sheets.
In addition to detailed product specs, high-quality product imagery is a must for manufacturers to display their products. With more potential customers researching products and shopping online, quality product photography is the need of the day.
Too many manufacturing websites are still using relatively outdated graphics and imagery with small photos that don't show the specific details buyers are looking for.
Fortunately, last year saw a move towards bigger detailed photos. And this trend continues in 2021 with a greater expansion towards showcasing products in innovative ways such as through 3D models and animation, and 360-degree views.
Product photos need to be clean and uncluttered. Use bright colors to show off the product, and have a hint of natural elements, or use human elements such as a pair of hands showing how your product works.
In 2021, products will feature as design elements on a webpage, creating a more synergistic look between the product and the website.
3. Customization of Products
Manufacturers are noticing that powerful product configuration tools are a game-changer offering differentiation, greater user experience, and elevated sales. In 2021, this trend continues to dominate in both B2C and B2B markets.
Websites that offer product configuration tools set themselves apart and gain a competitive advantage, which also makes the purchasing process much easier. It enables potential customers to configure and visualize products in 2D or 3D, and access real-time pricing and quote of configured products.
Here's an example of how users can configure a product to meet their needs:

4. Clear Navigation
Simple, clear navigation is a must for manufacturing websites to help visitors navigate towards the products and information they are looking for. Different navigation types enhance user experience and support the website visitor's journey towards conversion and sales.
One trend cropping up in website design is hidden navigation or the use of hidden menus. It is a more intuitive form of navigation where a menu shows up on a webpage as a visitor takes some form of action. This can be when they scroll down a page, hover over certain areas, or click an icon.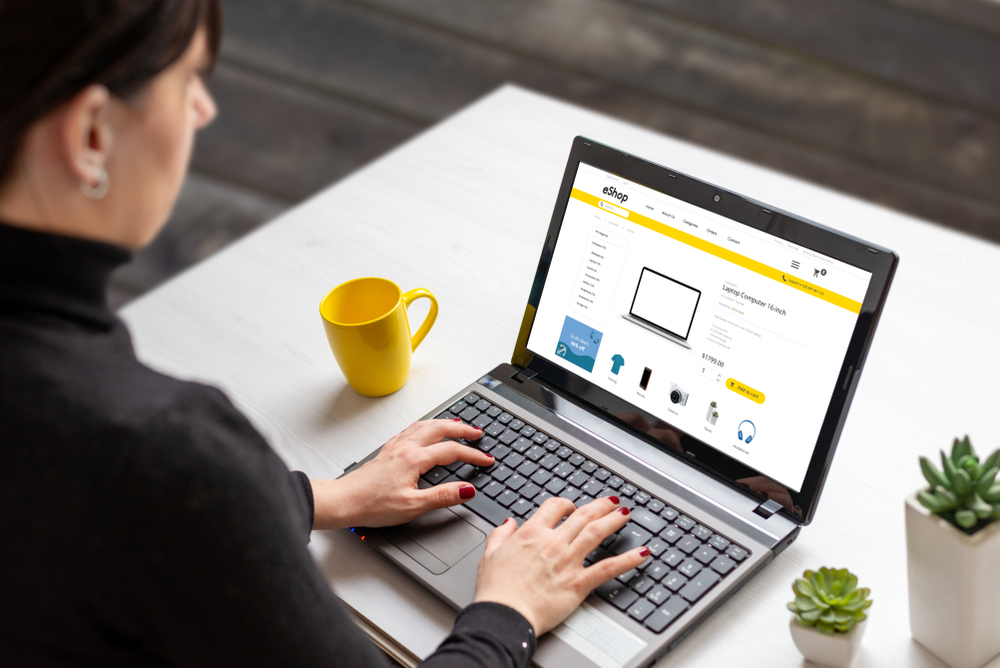 Hidden menus give an uncluttered look to websites and offer more room for other content. It also works well when websites are viewed on smartphones, thus ensuring mobile responsiveness.
In 2021, web audiences are ready to explore fresh ways of interacting with common website navigation elements such as menus, banners, and footers. These are the areas where web designers will experiment and deliver new ways of navigation and web browsing.
5. Inclusivity and Accessibility Features
There is a growing trend to make websites more accessible for people with disabilities, thus increasing the reach of the website. But inclusivity and accessibility are more than a trend and are a necessity for any good website.
There are certain elements, which need to be incorporated into good web design to improve accessibility such as creating strong color contrasts between text and backgrounds, adding functional alt tags to images, ensuring the website is keyboard friendly for easy navigation, and clearly labeling form fields rather than using placeholder text.
These trends evolve and continue in 2021 so that every website visitor can access and navigate manufacturing websites with ease.
6. Comfortable Color Combinations
As more people spend time online, web designers have taken it upon themselves to create websites that are easier on the eyes. Cue in the 'Dark Mode', which grew in popularity in 2020, and is expected to continue into 2021.
Web designers will continue to use colors that are easy on the eye and will experiment with subtle, simple designs and cool natural colors that are comforting and relaxing.
Other color trends for websites that will deliver accessibility and comfort include colors that blend into each other (gradients), color blocking that uses organic shapes rather than fixed boxed shapes, and saturated colors against paler hues.
7. Interactive Web Elements
Interactive elements on websites have become increasingly popular, and this trend continues into 2021 to engage with potential customers more organically. For manufacturers, these elements can be in the form of calculators, assessments, or polls that offer interactivity and provide value to website visitors.
Micro-animations are another popular form of interactivity that are triggered when a website visitor takes some action such as scrolling down, clicking an icon, or hovering over an element. For manufacturers, these micro-interactions can be used to explain product features or help visitors navigate through the website, thus increasing brand awareness and engagement and making your website more appealing.
Today, potential customers turn away from outdated websites as it sends the wrong message to them about your reputation and trustworthiness. Whether you are building a new website or updating your old one, it's important to incorporate the latest website trends so that it looks new, secure, and trustworthy, and helps you stand out from the competition.
Does your company website have any of the items listed above? If not, reach out to us today so we can help you incorporate these features to your site to set you apart from your competition.
---